Proficient data recovery tool that can recover deleted & lost files from formatted, corupted, and deleted Lexar USB drives
It recovers images, videos, music, document files etc. from all other USB drives
Available for free download that recovers all your files, and allows a free preview of the recovered files even before activation of the software
Click on the below download button to get the free version of the software & retrieve all your files back in just three clicks
Lexar is a well know brand for producing a new generation of USB drives with high storage capacity and remarkable data transfer speed. These portable storage devices are durable and easily compatible with different devices. Though these USB dives boast of retaining data for a long time but, the fact is, these cannot be trusted completely. The USB drive is easily shared and a minor mistake, while its use, may result in a data loss. So, user should know how to recover data from a Lexar USB drive in order to retain their important data. It is the finest approach to secure valuable information on Lexar Professional cards and USB drives after any data loss crisis.
Circumstances under which files get deleted & lost from Lexar USB drives!
Since USB drive is a kind of removable media, when the user deletes files from this drive, deleted files bypass the Recycle Bin or Trash. So when you delete any file make sure it will not be required in the future.
You may encounter format error as the drive is inserted to the system. If you proceed to format the drive, it will get empty and you will lose the entire data. Dont worry! you have a good chance to recover formatted Lexar card and USB drive with a professional application.
 Often users do a common mistake in hurry or habitually. Yes, most of us eject USB drive without disconnecting it properly. Removing USB drive during it is in use may cause in corrupted USB drive or loss or files. Moreover, with the help of this software you can restore data from Lexar CFast card with great ease.
Using USB drive in many devices may result in the corrupted file system or virus attack and then you left with inaccessible or corrupted drive.
After you encounter a data loss on USB drive, it is necessary to go ahead for Lexar USB flash drive data recovery with an excellent tool. An important fact that we should keep in our mind soon after data loss happened is, stopping the act of saving files further on the drive. Until the older files are not overwritten, you have a strong opportunity to recover data from a Lexar USB drive.
Lexar Card Recovery - A free software to recover files from Lexar USB drive
Lexar Card Recovery application has the powerful drive scanning feature to identify kinds of files and retrieve files from Lexar card within no time. A user friendly application which offers safe and easy data recovery features to restore data from the formatted SD card as well as from corrupted, damaged or inaccessible USB drives, microSD, CF, SDHC and other Lexar cards on all latest versions of Windows and Macintosh machines. The users can have preview of recovered files and easily evaluate the recovery result. It is risk free and non-destructive application that does not modify or change any information while recovering files. The user has to make only a few clicks on software wizard and it will perform a USB drive data recovery automatically.
Step-by step procedure to recover data from Lexar USB drive:
Step 1: First, download and install the Lexar Card Recovery tool on your system then select "Recover Photos" from the main screen as shown in fig A. Then, among the available logical drives, select the Lexar flash drive and Hit Scan button to initiate the scanning process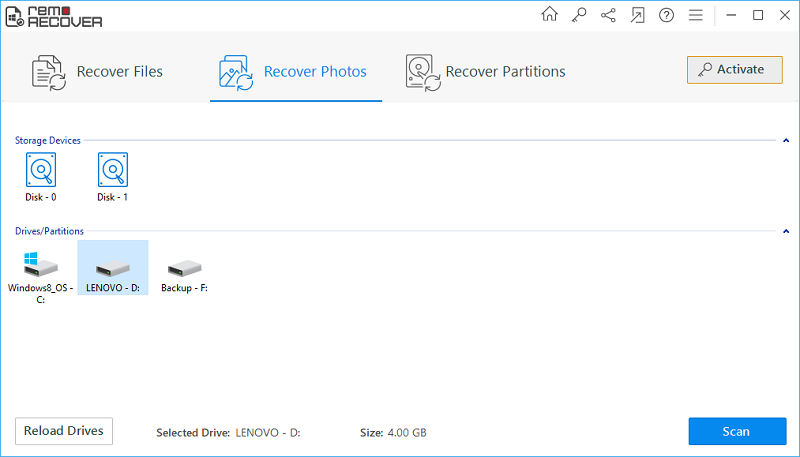 Fig A: Main Screen
Step 2: Now, the software starts scanning the Lexar flash drive, and you can monitor the scanning process, and wait untill the scanning process gets completed, as shown in Figure 2.
Figure 2: Scanning in Progress
Step 3: The list of recovered files from Lexar flash drive will be displayed as shown in figure 3.
Figure 3: List of Recovered Files
Step 4: Right-click on the file items in the list to preview the recovered files, as shown in figure 4.
Figure 4: Preview Recovered Files
Step 5: After marking the essential files for restoration, select the destination location to save the recovered files, as shown in figure 5.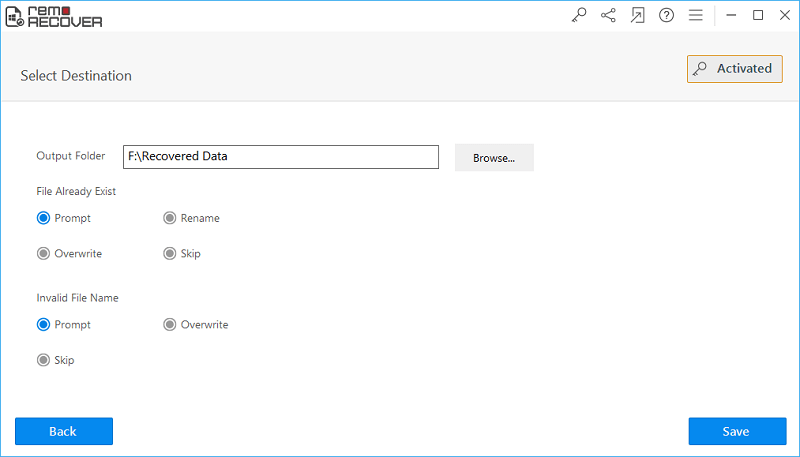 Figure 5: Save Recovered Files