Professional data recovery tool that can restore deleted, and lost files from Lexar flash drive after accidental deletion, formatting the rive, and corruption of the drive
The software comes in both Windows & Mac editions that is compatible with Windows 10, macOS High Sierra, and their earlier versions too
Supports data recovery from Lexar USB flash drive, memory cards, pen drive, and other USB storage devices
Comes in free demo edition that avails a free preview of recovered files even before activating the complete version of the software
The best tool to recover deleted, lost, and formatted files from Lexar USB flash drive
Lexar is a well-known brand for producing reliable and durable flash drives. It stores a large number of media files and documents and provides high-speed data accessibility. However, these flash drives are also susceptible to data loss. During the use of the Lexar flash drives, data may be lost due to deletion, formatting, corruptions or any other reason. In this sort of data loss calamity, the user should employ a proficient Lexar flash drive recovery tool. It is the smartest solution to achieve complete data recovery from Lexar storage drives such as flash drives, USB drives, SD cards, CF, xD and other type memory cards.
Below, you will find a detailed list of frequently occurred reasons where you need Lexar card recovery tool:
Accidental Formatting- Mostly people think formatting a drive is the best option to overcome corruption issues but it is not an efficient way as, after formatting, entire data gets erased from the Lexar drive. The user may format the drive accidentally after receiving a format error such as "You need to format the drive M: before you can use it. Do you want to format it?"
Corrupt File System- Each storage drive is driven by a file system that is required to save and access files on the drive. If the Lexar drive file system structure is damaged or corrupted, files saved in the drive will become inaccessible.
File Deletion- Since, the flash drive is a removable drive when you delete any file, it does not move to the Recycle Bin or Trash Bin, therefore you need a professional Lexar flash card recovery tool to undelete files.
Abrupt Read/Write Operation- Often the users pull out the flash drive from the system while performing data operations on the drive. Such improper ejection of the drive could result in a loss of files that are being transferred. Moreover, with the help of this powerful tool, you can restore data from Memory Stick Pro Duo within a few clicks.
Corrupted Flash Drive- Files resided in the flash drive will become inaccessible if the drive is corrupted due to the formation of bad sectors, system viruses and malware, physical damage and other corruption factors.
Data loss may happen at any instance, therefore the user must have maintained a proper backup of important files and folders in the other storage drives. Using such a backup, it becomes easy to restore data after format, deletion or other data loss catastrophes. However, if the backup is not available then Lexar flash drive recovery software is the perfect solution for data recovery.
Important Note: As soon as the files are deleted/lost from your Lexar USB flash drive, immediately stop using it to avoid overwriting of the files. Do not save any new files on the flash drive untill you recover your files back. If the deleted/lost files on the Lexar flash drive are replaced with new files, then it's not possible to regain those deleted/lost files back.
Lexar Card Recovery - Free Tool to Recover Files from Lexar Flash Drive
Lexar Card Recovery provides the users the easiest way to recover data from flash drive. It is a completely professional Lexar flash drive recovery utility that offers an effortless data retrieval process. A great innovation specially designed for lost or deleted data recovery from Lexar CF card, SD card, SDHC card, xD card, MMC card, and all kind of storage drives from Lexar. One can use this software to recover Lexar flash drive on Windows and Macintosh OS running systems. It is strongly recommended Lexar flash drive recovery software to undelete pictures, videos, songs, documents and other type files after formatting.
Steps to recover data from Lexar flash drive
Step 1: First, download and install the Lexar Card Recovery tool on your system then select "Recover Photos" from the main screen as shown in fig A. Then, among the available logical drives, select the Lexar flash drive and Hit Scan button to initiate the scanning process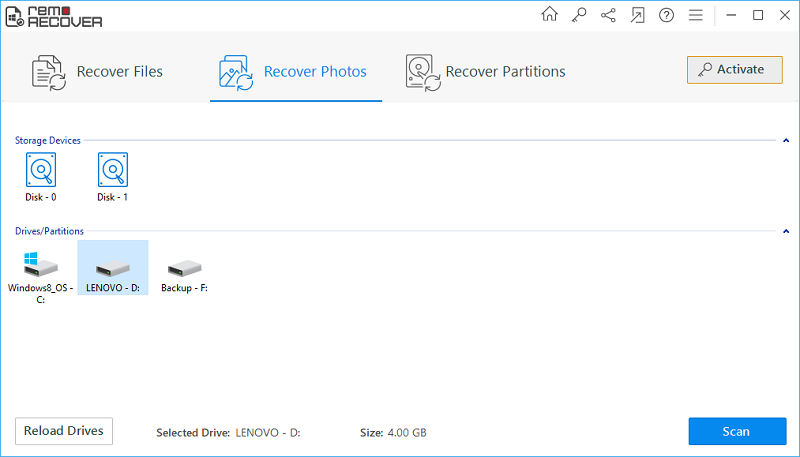 Fig A: Main Screen
Step 2: Now, the software starts scanning the Lexar flash drive, and you can monitor the scanning process, and wait untill the scanning process gets completed, as shown in Figure 2.
Figure 2: Scanning in Progress
Step 3: The list of recovered files from Lexar flash drive will be displayed as shown in figure 3.
Figure 3: List of Recovered Files
Step 4: Right-click on the file items in the list to preview the recovered files, as shown in figure 4.
Figure 4: Preview Recovered Files
Step 5: After marking the essential files for restoration, select the destination location to save the recovered files, as shown in figure 5.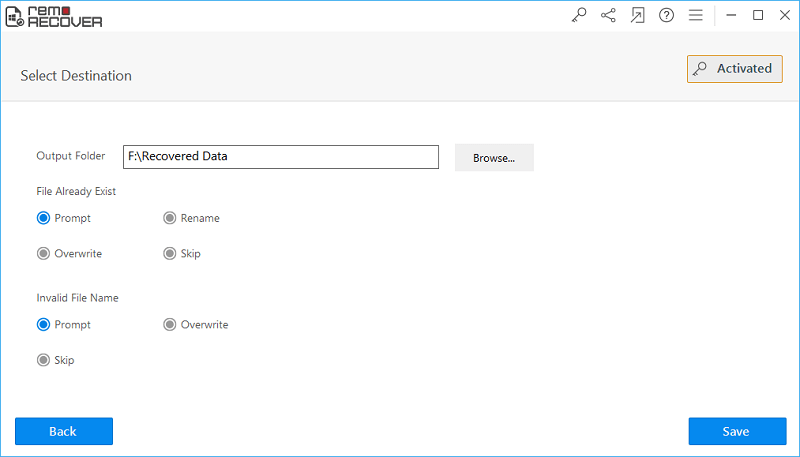 Figure 5: Save Recovered Files